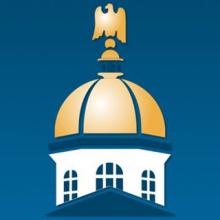 You may have heard the quip "software is eating the world" to describe the way many tasks once done by people or machines are now being done by computers and computer networks. Turns out, software is eating computer networks, too.
For years, the UNH InterOperability Lab in Durham, one of the state's quietest high-tech success stories, has been testing networking hardware like Ethernet switches and controllers, the machinery that makes the internet work, via consortiums of industry and academic participants. As of Monday, it has turned its attention to Software-Defined Networking, a fairly new process in which bits are replacing atoms inside that machinery.
"This is the next evolution in networking; it's a dynamic change," said Timothy Winters, the IOL's senior executive. "It's going from human interaction with devices . . . to having your network be programmed."
It's also the latest transition for the lab, which is well known within the world of networked systems but until it moved to its new home in downtown Durham last year was invisible to the rest of us.
"The joke I used to say is we're better known in Japan than we are in New Hampshire, but I think the new building has helped change that," said Winters, who started with the IOL as an undergraduate years ago. "People have become more aware of us – we have a lot more visitors than we used to have."
The laboratory is pretty old by tech standards. Its first consortium was created back in 1990 when the university's Research Computing Center was testing equipment for an internal network and realized that equipment from two different vendors were incompatible. It brought the companies together to solve the problem, and a business model was born.
The InterOperability Lab has basically been doing the same thing ever since via consortiums created around different technologies. It acts sometimes like Consumer Reports to test how well different equipment does what it says it will and sometimes like an industry standards group that gets firms to agree on how their widgets should play well with each other, hence the name "interoperability."
The lab may be best known outside of the networking industry for its role helping push the world into IPv6, the updated addressing system for an overcrowded internet. I've been writing about UNH-IOL and IPv6 for more than a decade, but there's still work to be done: Pokémon Go, for example, sometimes fails because it was designed for IPv4, the old addressing system.