The Nebula Award recognizes teams of employees who have achieved great things through hard work and determination. The award is given to teams that have shown exceptional effort on a specific project or task. 
Each team receives a cash bonus which is our way of recognizing the team's efforts and student employees for going above and beyond day-to-day responsibilities. The Nebula Award is especially to showcase how collaboration and teamwork are valued at the lab.
Congratulations to our award recipients!
Summer 2023: NVMe FDP Team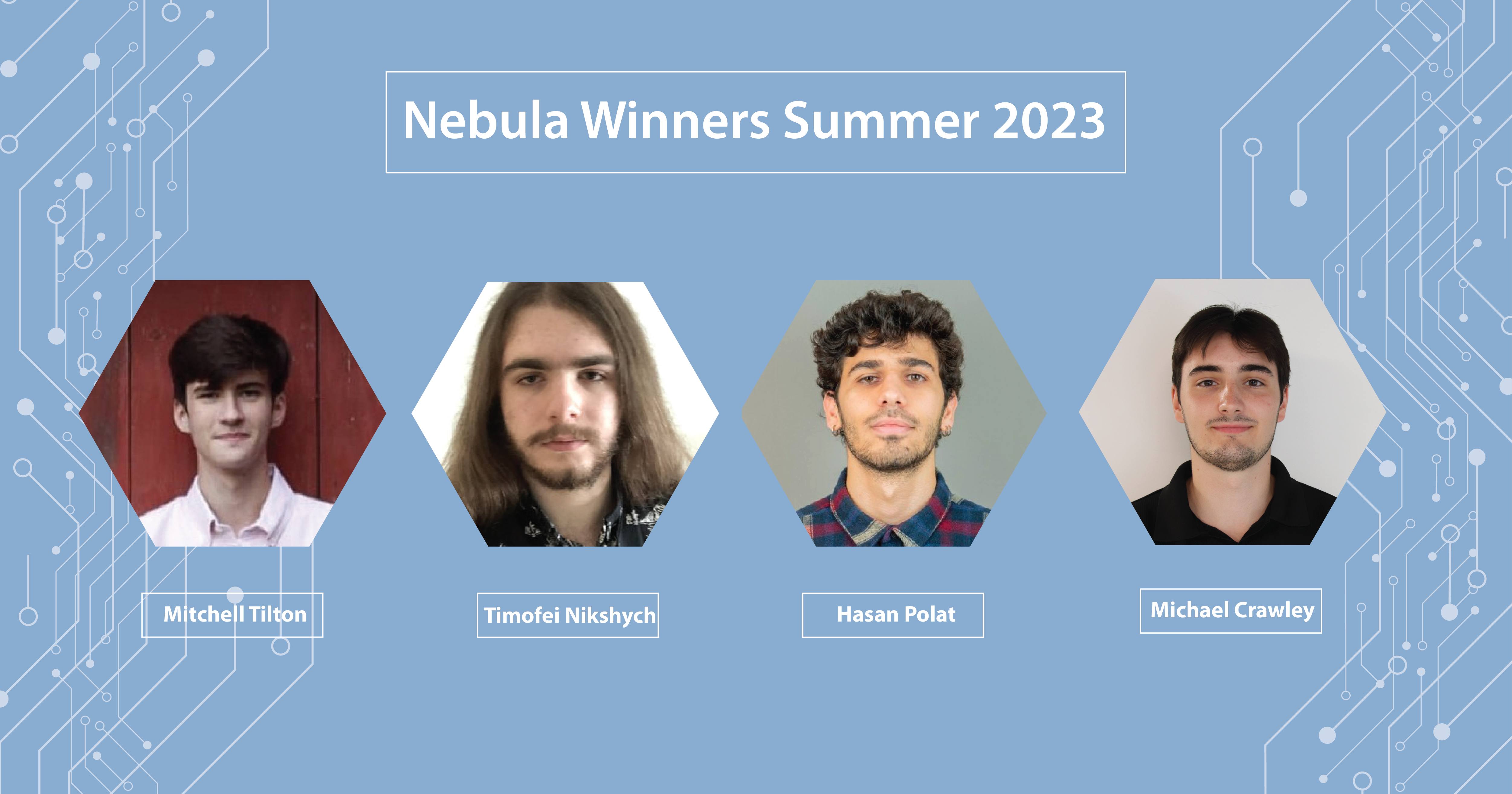 This team of individuals spearheaded an incredible development process from beginning to end. When each student in the data center team really jumped in, what started as developing test plans became a successful adventure.It was very clear that this group put a lot of effort into examining the TPs and any available documentation related to FDP, demonstrating their strong commitment to developing an effective and successful test plan. The group rapidly acquired the ability to write tests according to the specification and then quickly implemented them, far surpassing expectations. Creating a fully flushed release by the time a proof of concept was planned to be released. More importantly than the timeframe, was the quality of the tests and developed scripts. What this group has done very well is tailoring and creating quality additions to the Interact tool for easy support and extension for future generations. For the time, effort, and quality of work this team is well deserving of the nebula award.
Winter 2023: Datacenter OCP Team
Dilan Patel and Ronan Marino are the UNH-IOL Nebula Award winners for January 2023 for the OCP NVMe Project.. The OCP NVMe Project is a new effort in the datacenter industry of the UNH-IOL and has teamed up with SANBlaze to use their DT-4 test system to develop and test new use cases for the OCP NVMe test offerings. Dilan and Ronan have been working for the last 4 months developing 20+ OCP NVMe test cases for this effort and have done an exceptional job in developing, testing, documenting, and representing the UNH-IOL. Great job, and keep up the great work!
Previous Recipients
2022
Datacenter NVMe Team: Adam Judge, Pat Doherty, Brendan Murphy, Ntwali Karibushi, Casey Gladu, Noah Wilder, Dilan Patel, Robert Buckless, Timofei Nikshych, Ronan Marino, Hasan Polat, William Saulnier, Michael Crawly, Oliver Willis, Morgan Kahn
2021
DPDK Team: Brandon Lo, Owen Hilyard and Henry Nadeau
IP Packages Team: Skyler Baumer, Tim Clocksin, Liam Cate, Alan Lagace, Mason McDonald