January 2019
Justin Nelson
Justin Nelson has distinguished himself with his outstanding service as a member of the DSL and Gfast test services at the UNH-IOL. Justin's determination and hard work has made him critical as both a test engineer and developer. His contributions to our Test Sentinel software have already been invaluable. Justin's can-do attitude and willingness to accept and tackle any new task makes him a truly great employee. Justin is always willing to pass his knowledge and opinions on to newer employees and help them grow and learn as well. That he has already had this level of positive impact on the Broadband industry speaks volumes about his personality, commitment, and potential to and within the UNH-IOL.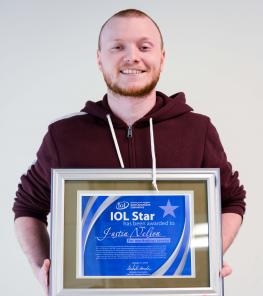 Joe Lagasse
Joe has quickly become an integral member of the PoE team. From the moment he started in the summer of 2018, he hit the ground running taking on any challenge given to him and approaching them with a careful determination. Joe is incredibly hard working, and is always striving to solve a problem without giving into distractions. To get the job done he will often work from home on the weekends, over breaks, or even while sick, to progress our PoE development efforts. He does this not just for the sake of the team, but for his genuine passion for learning and engineering. Joe fully embodies the values of the IOL is extremely deserving of the IOL Star award.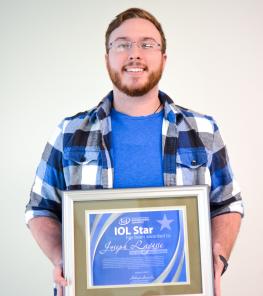 Madison Jaquith
Madison joined the lab the summer of 2017 and has grown into an essential employee in IP. Madison dedicates a significant amount of time helping employees in IPv6 with their testing. With a quick walk by IPv6, you will find Madison sitting with her fellow employees helping them learn the testing. Madison works incredibly hard to help anyone who has questions, even if she may not know the answer right away she will find someone to help. Madison contributions are well recognized by her fellow colleagues who credit her with making the onboarding into IPv6 easier. On top of this, Madison also juggles her own responsibilities. Madison can be trusted to complete her own testing efficiently and reliably and had tackled learning new protocols.
Madison continues to grow at the lab with her recent addition to the INTACT Packages Team. Madison's dedication and hard work makes her a great addition to the IOL Star Program.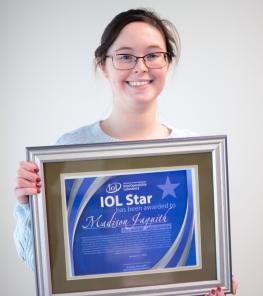 Mitchell Sternberg
Mitchell is a valued member of Baseband for all the work he does and elevates others to do. He has managed to balance completing day to day testing with crucial development of hardware including the Python Board and BitPhyer Board, not only creating tools that benefit the lab but the industry as a whole. He also leads a testing group as a Scrum Master, allowing Baseband to transition easily to Agile. He always makes time to answer questions his peers may have thoroughly, encouraging the development of a better and more rounded understanding of test plans and standards. And Mitchell always does his job with a professional and positive attitude; all of these traits make Mitchell more than deserving of an IOL star.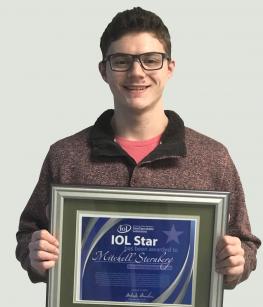 Alex Saveliev
Alex has been working at the IOL for a little over a year and a half and has become an integral member of the Ethernet Switching Protocols group. He is focused on vIOLet 802.1 Core development and contributed to the implementation of the Jumbo frame application as well as the most current MACSec application.  He was the sole developer responsible for the last two 802.1 releases including the new Jumbo frame application. Alex is mentoring two junior ESP technicians in vIOLet development, specifically the MACSec application. Recently Alex has moved the 802.1 effort to using Jira and Git utilizing Agile methods. Alex is always attentive to his work attendance and work tasks. This is all while taking full time Computer Science curriculum and participating as a Collegiate D1 athlete on UNH's cross country team.  Keep up the great work Alex.