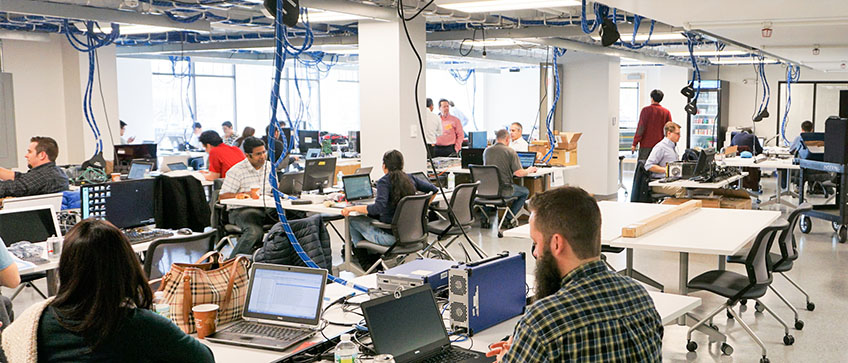 The UNH-IOL houses a 4,200 square-foot facility to support group test events and plugfests for up to 60 companies at a time. The space can be used to host one event or can be divided into two separate rooms, allowing for the flexible use of two events simultaneously.
With over two decades of experience hosting events for industry groups, including the Broadband Forum and the Ethernet Alliance, the UNH-IOL is the perfect venue to host your next technical event. Our reputation for technical expertise can help you successfully navigate through the issues seen in real-world network configurations.
Plugfest events serve as a means to allow companies to accomplish real-time, detailed, and thorough testing with other partners in the industry. Events usually focus on fostering the interoperability of a particular technology, often when the technology is in its first stages of implementation.
Plugfest Events Calendar
As Plugfest Events are announced, they are added to our Events page and calendar. You may or may not have to be an IOL member to attend these test events.
Event Support
Planning, Organizing, and Operating
We have experience in all aspects of group test planning, organization, and operation, including:
Scheduling
Test Plan Development
Registration and logistics
Network planning, setup, and maintenance
Data collection and reporting
Generation of post event press releases and white papers
Please contact us to take advantage of our group test event expertise and facilities.
Facility
Testing Stations
Each testing station provides:
Table and chairs
120V 20A 60Hz AC power circuit, 5-20R or L5-20R receptacles​
Internet connectivity, 10/100/1000BASE-T ethernet and 802.11a/b/g/n/ac wireless
The following equipment is also available on most (but not all) stations:
208V 20A 60Hz AC power circuit, L6-20R receptacles
48V DC power supplies (up to 400A)
Test & Measurement Equipment (such as: DSL Wireline Simulators, Scopes, Spectrum Analyzers, Traffic Generators, etc.)
Connectivity
The connectivity between each station and the central patch panel is identical, in 35 meter cables—totaling over 25km of fiber and 42km of copper overall! The following are available at each station:
6 Category-6a UTP cables, RJ-45 termination
IPv4 World Routable Network Space (255 addresses)

IPv6 World Routable Network Space (we don't count the number of those addresses)
Floor Plan
Our testing facility consists of two main rooms which can be divided to host separate events at the same time. We also have several conference rooms which can be used for privacy, team meetings/breakouts, or conference calls.