The UNH-IOL is the only laboratory offering ISO/IEC 17025 accredited testing designed specifically for the USGv6 Test Program. The test program designated by NIST provides proof of compliance to IPv6 specifications outlined in current industry standards for common network products. It is meant as a strategic planning guide for USG (United States Government) IT acquisitions to help ensure the completeness, correctness, interoperability and security so as to protect USG investments in the technology. Please click on the USGv6 Tested Device List to view a complete product registry of devices.
The specific test procedures executed is dependent on the feature availability of the device under test. For a specific list of procedures that will be performed on your device, please contact the IPv6 Testing Manager.
NIST USGv6 Program Site
Please visit the NIST USGv6 Program Site for documents and information regarding the testing program.
USGv6 & IPv6 Ready Logo Timeline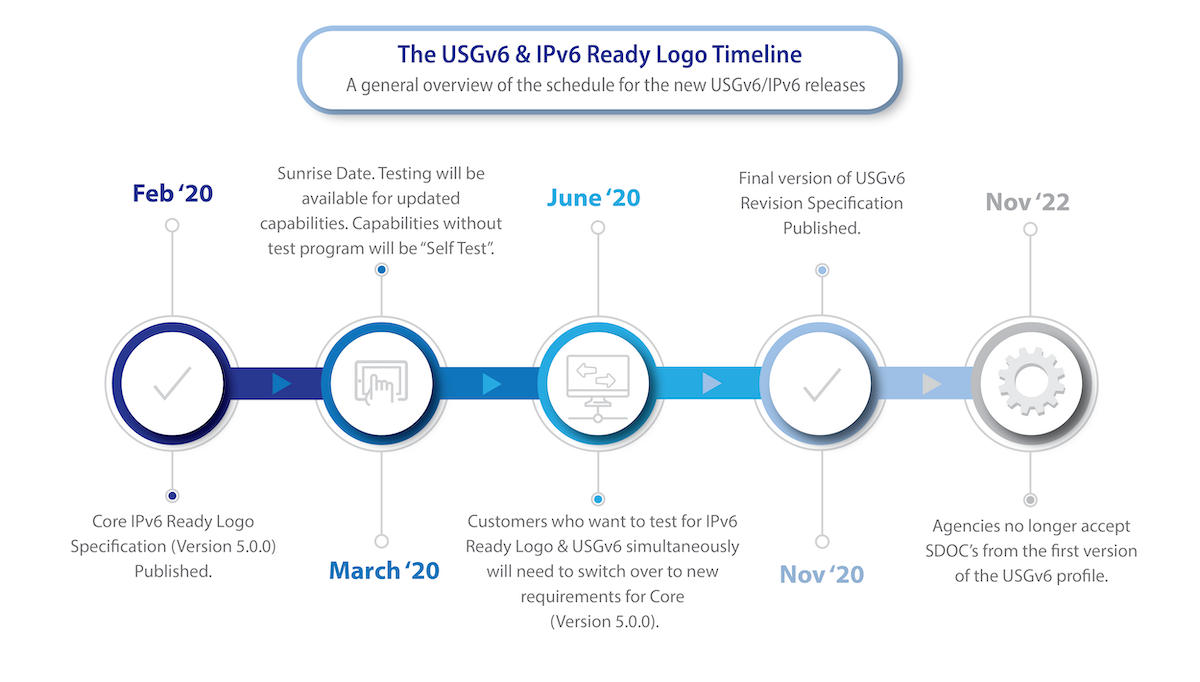 Available USGv6 Testing Services
Learn about the USGv6 Testing Process including in-house pre testing.
USGv6 Informational Webinar
Completing an SDOC
In order to fulfill procurement requirements for USGv6, you will need to fill out a SDOC (Suppliers Declaration of Conformity) and submit this document including traceability of your USGv6 test results to a federal agency. The UNH-IOL will help guide you through these steps and will address any questions that may arise. Email Michayla with questions.
IPv6 Test Software
Using the IOL INTACT® custom protocol software will accelerate your IPv6 Certification testing. Integrate into your development and QA process for immediate and continuous feedback to prepare your products for official testing. Visit the IOL INTACT® page for more information.