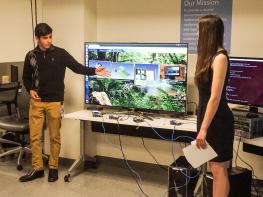 Throughout the HighTech Bound program, interns work with IOL staff and students on projects created and designed to fit their assigned consortia. At the end of the program, students present the projects created to friends and family.
Below you can find some sample projects that students worked on in past years:
Connected Smart Home:
The objective of this project was to learn about smart home technology and its underlying components and apply the learned to build a model smart home network. This included building multiple IoT (Internet of Things) devices on Intel Galileo Boards and configuring a home network for implementation of the smart home.
Living Bridge Project:
Along with the Research Experience Undergrads the intern's will be developing the Living Bridge website and its data infrastructure.
The interns goals are to:
Expand the interactive components of the website, especially with real-time data stream
Configure the servers to support and test real-time data streaming from the field
Integrate social media/outreach/feedback using the data stream and other relevant information related to the bridge and the Portsmouth-Kittery community