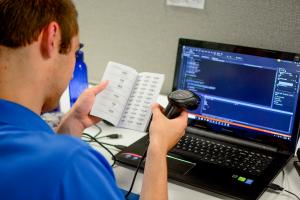 Throughout the HighTech Bound program, interns work with IOL staff and students on projects created and designed to fit their assigned testing group. At the end of the program, students present the projects created to friends and family.
Shipping Kiosk:
Austin and Elana were tasked with creating a piece of software allows the IOL to record all details of incoming and outgoing packages to a database. The software was designed as a windows based application and had the ability to connect to a USB barcode scanner to making logging packages fast and easy. The software additionally was able to communicate with multiple shipping company APIs (UPS, USPS, FEDEX) to gather and log information about each shipment.  Ultimately the software was installed both at the front of the lab and on a kiosk in our shipping and receiving dock. This project is already making our lives easier here at the lab.
Interactive Wireless Display Screen:
Connor and Crimson were tasked with creating and deploying a wireless display system for lobby, hallway, and conference room TV's located around the lab using the Airtame wireless display system. They created dashboards for some displays, per the guidance of Communications and Systems Teams, to display information to visitors or UNH-IOL staff.  Dashboards were created using Google slides for communications content which is now updated via the Communications team for up-to-date information. Throughout this process, they followed best practices for security and large scale deployment of IT infrastructure, including planning, pre-deployment testing, documentation, and and staff training / communication.  
Smart Home Demo:
Sumana and Bobby worked on a small scale representation of the Internet of Things, using a doll house, raspberry pis and raspberry pi components. The Raspberry Pi devices talk to one another and react, based on changes in a database, using scripts created in Python. The Raspberry Pi has a client side service installed that listens for changes in the database. If a change is detected, it will run a script to satisfy that change. Each aspect of the database is controllable utilizing an elegant web app, simple web API, and Amazon Alexa voice control services. The database and applications are expandable, and allow for the addition of a virtually unlimited amount of devices in the future.
One Page Web App for status of Violett:  
Sam and Bryan developed a one page web app to act as a user interface for the UNH-IOL conformance testing tool known as "vIOLett". The work required programming in Javascript, HTML, CSS, and an understanding of the RESTful server interface developed in vIOLett that was in beta testing at the time. Through the vIOLett REST interface, the developed app showcases the ability for IOL customers to develop customized user interfaces specific to their desires and needs from the open source code developed by the interns over the summer. The interns also developed professional skills through the use of IntelliJ, Jira, GIT during the course of their efforts.
Technology Transfer Center (T2) Website Development:
This year, the IOL established a Software Development team, which would be dedicated to software development for external stakeholders, while also providing expertise to internal development teams.  This summer, Owen Hilyard and Kate Bacon joined the software development team to partner on a project for rebuilding and updating and re-designing the UNH Technology Transfer Center (t2.unh.edu) to meet the needs of the community. Using a Drupal platform to create the website, this project required quick learning unfamiliar technology and programming languages. Additionally, they were part of an Agile (Scrum) development team, participating in daily standups, feature demonstrations, story pointing and estimating exercises, as well as customer requirements gathering.
Automotive Common Mode Jig:
Abigail and Ben both worked on the Automotive Common Mode Jig project that involves two major pieces: a hardware component and a software component. The hardware side required a ground plane, brass mounted SMA fixture, and a 3d printed cable harness.
The software end requires updating existing code to extract this measurement, display it in the preferred manner and automation. The language this is currently designed in is Matlab.
Living Bridge
Along with the research experience of undergraduate and graduate students, Morgan was selected to update the Living Bridge website and its data infrastructure. The Living Bridge project is a self-diagnosing, self-reporting "smart bridge" powered by a local renewable energy source. This project is possible through a grant from the National Science Foundation and the New Hampshire Department of Transportation. The specific goals were to:
Expand the interactive components of the website, especially with real-time data stream
Configure the servers to support and test real-time data streaming from the field
Integrate social media/outreach/feedback using the data stream and other relevant information related to the bridge and the Portsmouth-Kittery community
Learning how to implement HTML & CSS code onto the Living Bridge