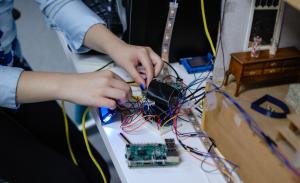 Throughout the HighTech Bound program, interns work with IOL staff and students on projects created and designed to fit their assigned testing group. At the end of the program, students present the projects created to friends and family.
Internet of Things (IoT) Smart Home Demo:
Collaborating together, Catie, Natalie, and Aaron, were tasked with using Raspberry Pi devices to create an interactive demo of a 'Smart Home'; all encompassing the technology known as IoT. They were specifically working in the Internet Protocols (IP) Testing Service. By using Raspberry Pi devices and input from a database they created, they were able to control devices and features shown in the Smart Home and explained how each of them talks to one another. The interns programmed the database so that it was able to connect to other Raspberry Pi devices and have each run programs to control things in the house like lights, speakers, screens, fans, etc.
Mobile Industry Processor Interface (MIPI) Testing PCB Design using Altium:
Marc and Thomas were tasked to use Altium designer to make CAD designs of 4 experimental PCB designs that focused on the front
end of a testing platform in order to reduce the number of plug/unplug cycles necessary. This project directly helped the lab as these MIPI boards are created by student employees and sold to businesses to to aid in performing M-PHY, C-PHY, D-PHY, DSI, and CSI-2 testing in-house. By working with the CAD software, Altium, and becoming familiar with MIPI technology,  they learned how to test and create basic board design in order to make the necessary improvements.
Jira Integration with Custom Database Solution:
Aaron was tasked with streamlining our day-to-day database tasks. Our external customers enter requests and track them via our custom database, while internally we track our work via Jira.  Historically, keeping these databases synchronized is a manual task, requiring an manager to track and update dozens of requests daily on two systems.  Simplifying the way tasks are tracked and minimizing the amount of entries to add a completed task in our database, Aaron created software to interface with  the IOL database, known as Lego, and Jira our work tracker. The tool works by watching  for updates in either database and then transferring the information to the other. He used several different coding languages to make this project come to life, including Python, and Javascript. This project will increase productivity, and reduce errors, across the lab!
Wireless Performance Testing Demo:
The Wireless Testing Group wanted to improve their demo, used on various lab tours, to highlight the equipment used for performance testing. Shane and Dante were tasked with creating a fresh and exciting Wireless demo to use for future tours. Creation of this demo included making a data visualization software to display the results of testing in an understandable way. They exceeded their goal and eventually created a real time visualization tool for use in actual testing.
The tool they created was able to do the following:
Read pre-recorded test data and display them as graphs in a simulated test (for demos).
Read real-time testing data from a server socket and display graphs as the test was being performed.
Save graphs for use in data reporting to vendors
They also created a new demo that explained and outlined the following:
Basic concepts between range and the performance of wireless devices
The value of wireless performance testing
An overview of the OctoScope equipment and how it's used in the lab
An overview of our basic Throughput vs. Range Performance test case with example.
Ethernet Switching Protocols:
Hunter worked in our Data Center Testing Service, specifically on Ethernet Switching Protocols(layer 2 Ethernet), to create a system that would perform automated nightly build and test of our 802.1 vIOLet applications. This template will be used to test the remaining 802.1 vIOLet applications as well as the daily changes made by our student developers. This Automated Testing runs against well known devices that support the 802.1 protocols featured in the 802.1 vIOLet applications. The 802.1 vIOLet applications are developed using the JAVA and C programming languages. This project will also help support the labs external testing software for years to come.
Time Sensitive Networks:
Our largest group of interns to-date were in our Time Sensitive Networks (TSN) Testing Service group and they included Connor R, Connor N, Sonya, and Megan. Throughout the summer, they worked on numerous projects including:
A task board for the embedded systems group to effectively track task completion to help them stay up to date on tasks that needed to be completed.
A custom program that installed files & preferences necessary for all new hires
Making a 3D print casings for equipment with a 3D printing software.
An internal software used for international customers to customize in their language.
Living Bridge:
Along with the research experience of undergraduate and graduate students, Mallory and Ian were selected to develop the Living Bridge website and its data infrastructure. The Living Bridge project is a self-diagnosing, self-reporting "smart bridge" powered by a local renewable energy source. This project is possible through a grant from the National Science Foundation and the New Hampshire Department of Transportation. The specific goals were to:
Expand the interactive components of the website, especially with real-time data stream.
Configure the servers to support and test real-time data streaming from the field.
Integrate social media/outreach/feedback using the data stream and other relevant information related to the bridge and the Portsmouth-Kittery community.
Learning how to implement HTML & CSS code onto the Living Bridge.