To meet the needs of its higher layer protocol based conformance testing, we have developed a custom software test tool and API, named IOL INTACT® (Improving Networks Through Automated Conformance Testing). A modular and cross-platform API with built in packet generating, scheduling, triggering, and filtering capabilities offering fully automated protocol analysis and testing, the IOL INTACT software is used in a number of our Testing Services including IPv6, Routing, and Home Networking.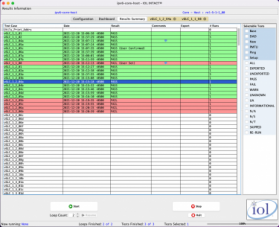 IOL INTACT® Packages

Test Packages
RFC Coverage
30-Day Trial
Price Quote
IPv6 Core
(USGv6, IPv6 Ready)
4191, 4291, 4443, 4861, 4862, 5095, 6980, 7217, 8106, 8200, 8201
Trial License
Request a Quote
IPsec/IKEv2
(USGv6, IPv6 Ready)
2404, 2410, 2451, 3566, 3602, 3686, 4301, 4305, 4312, 4443, 4868, 7296, 8221, 8247
Trial License
Request a Quote

Network Protection Product

(USGv6)

NIST 500-267Ar1

 
Request a Quote
DHCPv6
(USGv6, IPv6 Ready)
3315, 3646, 3736
Trial License
Request a Quote
CE Router
(IPv6 Ready)
7084
Trial License
Request a Quote
BGP
2842, 4271, 2385, 3107, 2858, 793, 904, 1997, 2796, 3065, 2439
 
Contact Us
Key Features
IOL INTACT® System
Includes Application, Packet Generator 
Flexible Licensing Models - Node-locked, Local License Manager, Cloud
Automated testing and results, packet traces, detailed test logging, progress tracking
Test Script Package
Rigorous testing according to industry-standard test procedures and RFCs, ability to fully automate DUTs with most packages
Access to IOL INTACT® Support Center
Access to knowledge base articles as well as filing, tracking, and sharing requests
Personalized Support 
Initial setup and configuration, result review, online conferencing and interactive debugging
Package Updates
Access to the latest package releases
Pricing Details

                                                                                                                           License Price Per Seat

 
Standard Price

Discounted

(with Eligible Testing Service Membership*)

1-Year License

$10,000 USD

$6,000 USD

2-Year License

$18,000 USD

$10,000 USD

Each license includes 1 seat (the ability for one user to simultaneously use the software). Support and Maintenance is included with the purchase of each license. A description of IOL software services can be viewed here. For information on how to file a support request click here.

*IPv6, Firewall or Routing Testing Service Membership with more than 3 months remaining required to be eligible for discount.
Webinar Series