IOL INTERACT™ software expedites and automates the testing of NVMe SSDs and NVMe-oF products. It is used to test products for inclusion on the NVMe Integrator's List. Members of the UNH-IOL NVMe Testing Services are entitled to a copy of INTERACT™ for in-house testing to ensure that their products will meet the Integrator's list requirements when submitted for testing.
There are two versions INTERACT™. The PC edition works with a standard PC but does not capture log files or trace data. The Teledyne-LeCroy edition works with a Teledyne-LeCroy Summit PCIe Exerciser to capture trace data and logs.
IOL INTERACT™
IOL INTERACT Test Software Packages
About IOL INTERACT™ PC EDITION Software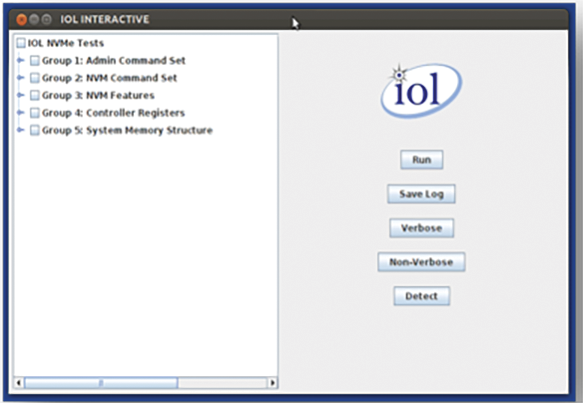 The IOL INTERACT™ PC EDITION Software implements all the tests described in the UNH-IOL NVMe Conformance Test Suite. This tool can be used with PCIe based SSDs as well as NVMe over Fabrics targets. The tool is designed to make device selection and test selection easy and speed up the performance of NVMe conformance testing. The tool does not provide the log files and trace data typically available from a bus analyzer.
About IOL INTERACT™ Teledyne-LeCroy EDITION Software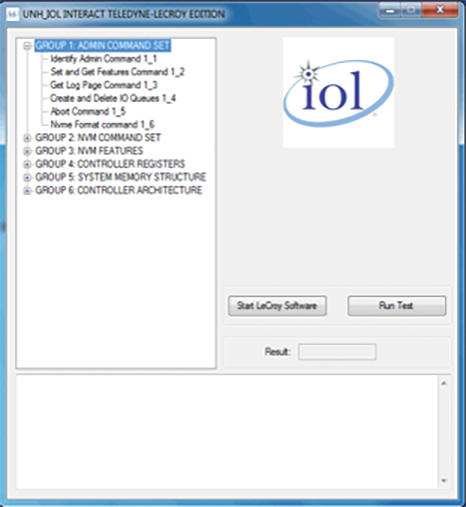 The IOL INTERACT™ Teledyne-LeCroy EDITION Software runs as a stand-alone (automated) application for executing the tests described in the UNH-IOL NVMe Conformance Test Suite. This tool was created by UNH-IOL to perform the tests that are required for listing a product on the NVMe Integrators List. The tool works in conjunction with the Teledyne-LeCroy Summit PCIe Exerciser and Analyzer system. It uses the Teledyne-LeCroy Summit PCIe Analyzer to capture and save all trace data and logs for later inspection