By Timothy Carlin - Tuesday, April 14 2015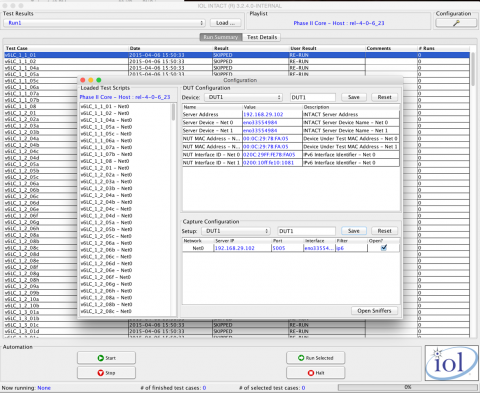 The UNH-IOL is pleased to announce the 3.2.4.0 release of the IOL INTACT® Network Test Automation Software.  This long awaited update delivers our most requested features to our users and marks two significant paradigm shifts for the IOL INTACT® platform: Floating Licenses, and Virtual Machine Support.   In addition, this release is combined with updates to two of the most popular IOL INTACT® test packages: IPv6 Core and CE Router.  These updates include bug fixes, and for the first time complete PASS/FAIL Results reporting for each and every test case.
Floating Licenses
Until now, the IOL INTACT® software was licensed to operate on physical hardware only, and was non-transferrable. This meant that once the license was issued, any change of infrastructure, including hardware failure or upgrades, would require re-licensing.  This model also limited the ability for a QA team to effectively and efficiently share the IOL INTACT® software.
 
The 3.2.4.0 release introduces the concept of Floating Licenses.  With this model, the IOL INTACT® Client accesses a pool of licenses from a Floating License Manager.  This allows the Client to run from anywhere that can make a TCP connection to the Manager, and also enables the Client to more easily run from a variety of operating systems.  
While the Floating License Manager is restricted to running on a single GNU/Linux based operating system, the IOL INTACT® Client software now officially supports Windows 7, 8, 8.1, Mac OS X (all versions), and CentOS Linux 6, 7.  Now, customers can choose to purchase a license for each member of the team, or can purchase several licenses to share among team members.  Combining this with the freedom to select the Operating System adds much desired flexibility for testing teams.
Virtual Machine Support
There is no question that the ease of deployment, use, and great flexibility of virtual infrastructures have made Virtual Machines a popular option for QA teams in building testing environments.  This is even true for users of the IOL INTACT® software, interested in closely integrating INTACT® with existing frameworks.
The power and flexibility of virtual machines means there are numerous configuration and deployment alternatives.  Supporting these many options has proven to be a daunting task for many system administrator and software developers, and the IOL INTACT® software is no exception.  With this release, the IOL INTACT® team has built a VMware vSphere ESXi based CentOS 7 based Virtual Machine tuned specifically for the IOL INTACT® Software.
Users will find the INTACT® VM easy to install to existing infrastructures, and will find a number of features exclusive to the Virtual Machine, including friendly interface names, auto-login, simplified launching of the INTACT® Client and Server, quick access to test suites and UNH-IOL resources, as well as a web-based utility for monitoring and controlling IOL INTACT® server instances.
Bugs and GUI Updates
As with all releases, numerous bugs were fixed, both visible and obscured in nature.  Some of these bugs include problems with the Configuration interface, results loading performance, and enhancements to the Test Script Interpreter.
The various GUI updates will be immediately obvious to users, and users should find them to make the frequent tasks of switching results sets and analyzing testing much more streamlined.  This release introduces the IOL INTACT® Workspace.  Users will no longer be required to manage directories of results spread among the file system.  IOL INTACT® now maintains a Workspace folder, users must only assign a name to the results, and select a playlist when starting a new testing round.  
In addition, the GUI itself has been simplified, with infrequently used Configuration and Messaging interfaces being pushed to the background.  The Configuration Interface will be displayed when needed, and is easily found later using the wand button.  The Messaging window will be displayed any time an error is encountered, and can be opened any time from the Menu Bar.
 
Roadmap
IOL INTACT® development is far from finished.  There are a number of important features on our roadmap that we believe our users will find helpful.  The most requested feature is the ability to run IOL INTACT® Automated Testing using a command-line interface.  This will enable users to integrate IOL INTACT® Testing with existing automated infrastructures, including nightly unattended test runs.
Selecting and executing related tests has always been a laborious task for our users.  Today, all automated tests are run with the push of the Start button.  Selecting all Manual Tests, or all tests exercising a given feature is a time-intensive and user prone task.  We aim to make this process easy and simple in future releases with the concept of Playlist Tagging.  Like tests will be tagged, and can be selected for execution easily.
Of course, many features are in the works, and more are suggested daily.  We will work hard to improve the IOL INTACT® Software, and produce the most effective and simple tool possible.
About IOL INTACT®
The IOL INTACT® Software is a modular and cross-platform API with built in packet generating, scheduling, triggering, and filtering capabilities offering fully automated protocol analysis and testing, and is used in a number of UNH-IOL Consortia including IPv6, Routing, and Home Networking.  Although many test solutions on the market are well suited to specialized functions, the IOL INTACT® software offers a well-rounded packaged solution.