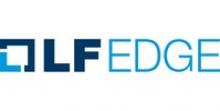 SANTA CLARA, Calif., May 14, 2019 /PRNewswire/ -- IoT World – LF Edge, an umbrella organization within the Linux Foundation that aims to establish an open, interoperable framework for edge computing independent of hardware, silicon, cloud, or operating system, today announced continued project momentum. Project Edge Virtualization Engine (EVE) receives initial seed code from LF Edge founding member ZEDEDA, as the community showcases a range of edge/IoT application demonstrations, from connected cars to wind turbines, on-site at IoT World.
Additionally, LF Edge welcomes new Associate and Liaison member organizations Industrial Internet Consortium (IIC), the LIONS Center at the Pennsylvania State University, OTAinfo, and University of New Hampshire's Interoperability Lab (UNH-IOL).
"We are excited to see the LF community continue to collaborate on building unified edge solutions," said Arpit Joshipura, general manager,  Networking, IoT and Edge Computing, the Linux Foundation. "We appreciate ZEDEDA's leadership in helping us advance On-Prem Edge IoT with initiatives like Project EVE, and are eager to showcase the broad capabilities of LF Edge onsite in Santa Clara while welcoming our newest members."  
Edge Virtualization Engine Launches Initial Seed Code
Analysts predict more than 30B connected devices worldwide by 2020, all generating continuous data streams that will need to be processed quickly. Edge computing enables data processing through local gateway systems to reduce latency and provide faster response. With Project EVE, edge gateways and devices run a variety of edge workloads simultaneously, decoupling application management from the underlying hardware. Applications can be deployed in standard virtual machines (VM) or container environments and be managed through a standard set of APIs.
"With Project EVE, the goal is to create a single virtualization standard for edge devices for the industry to build around so that we can enjoy the benefits of cloud-native applications sooner rather than later," said Said Ouissal, co-founder and CEO of ZEDEDA. "Imagine how much more impact we can achieve now that edge applications can be reliably managed and secured."
LF Edge on Display at IoT World
LF Edge is on-site at IoT World in Santa Clara this week, May 13-16. Highlights include live project demonstrations in booth 610 and LF Edge community expert presentations:
Debut of the new Project EVE code
Live demonstrations of emerging Akraino blueprints for network cloud integration and industrial automation and Connected Cars
A smart build automation demo from EdgeX Foundry
A model wind turbine demonstrating EdgeX and Project EVE technology
Simulation of an industrial assembly line with sensor devices supporting MQTT and Monbus protocols
Arpit Joshipura will participate in two IoT panels; learn more: https://www.lfedge.org/event/iot-world-2019/.
More details on LF Edge's activity at IoT World are available in this blog post. Please also follow @LF_Edge on twitter for real-time updates.