It may seem counter-intuitive, but the recent release of 2.5GBASE-T and 5GBASE-T Ethernet technologies are one way that standards have ramped up their responsiveness to industry need by slowing down the data rate. Several key technology spaces, such as wireless access points and servers, have increased their need for bandwidth since 1000BASE-T was standardized in 1999. While 10GBASE-T is a viable solution for many, it requires the physical cabling infrastructure to be at least Category 6A. Many existing installations in small and enterprise businesses however, were completed using Category 5e.
Designed to leverage much of what the industry already has developed, like the 10GBASE-T PHY technology framework and the classic installed Cat5e cable, 2.5GBASE-T and 5GBASE-T technology delivers more throughput for end devices without much change in infrastructure. These new technologies, for the most part, are just scaled down versions of 10GBASE-T. However, they can operate over the 100m of bundled Cat5e, the typical "worst case model" used in deployments -- something 10GBASE-T wasn't designed to do.
Delivering a 2.5x or 5x increase in throughput compared to the only solution currently available, 1000BASE-T, allows businesses to simply replace the devices on either end of the cabling, keeping the dusty old Cat5e bundled and tucked away overhead. 2.5GBASE-T and 5GBASE-T becomes an easy and obvious upgrade when 1000BASE-T is not fast enough and 10GBASE-T is too expensive.
The NBASE-T Alliance introduced a specification upon which to build a version of these next- generation technologies back in 2014, and helped lead the drive towards the recent adoption of IEEE 802.3bz, which defines the technology in a recognized standard. The main difference between the IEEE 802.3bz and the NBASE-T specifications is the inclusion of the proprietary implementation of downshifting in the NBASE-T specification. This feature allows devices to maximize the link speed in real time by stepping down from the ideal link speed of 10G to 5G or 2.5G when the noise in the system is too great, instead of directly jumping down from 10G to 1G as previous BASE-T devices have needed to do. The technology also compensates for the variety of different power spectrums that can be encountered by a device due to varying link speeds within the same cable bundle.
Despite the differences in the two specifications, however, they can be interoperable as shown in the joint plugfest held at the UNH-IOL by the Ethernet Alliance and NBASE-T Alliance last fall. Interoperability was proven in plugfest between a wide range of devices, and the event was so successful they are planning another one sometime this year. Vendors looking to deploy a new 2.5GBASE-T and 5GBASE-T product can be assured the flavor of this new technology shouldn't affect interoperability when dropping it into their current Ethernet ecosystem.
As previously mentioned, one of the largest application spaces for these technologies is for the deployment of wireless access points. The image below shows a typical deployment for a business environment, where access is typically provided to customers or employees through use of wireless APs. For example IEEE 802.11ac, is theoretically capable of 6,930 Mbps. While in reality most APs don't deliver the full rate, the general rule of thumb is to provide 75% of that theoretical bandwidth. 5GBASE-T is capable of providing that much needed additional bandwidth to handle the heavy load to support the access points. Moreover, it can do so without changing the cables already run through ceiling and walls to existing AP locations.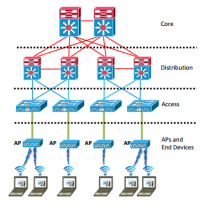 Green Link Shows the 2.5GBASE-T and 5GBASE-T Link. Source: NBASE-T Alliance
Another market that could benefit from 2.5GBASE-T and 5GBASE-T is the personal desktop space. Users who are constantly pushing the limits of a Gigabit link with their high-bandwidth jobs, such as CAD engineers or silicon design engineers, would find great value in faster network database access. If cost effective, replacing the Gigabit switches with 2.5GBASE-T and 5GBASE-T switches and gaining that bandwidth improvement could drive additional IT investment based on the value of faster connectivity.
Outsourcing colocation services to a data center provider offers many strategic advantages. Learn how the enterprise can preserve capital that would have been earmarked for building in-house data centers, and stay focused on core business.
The new BASE-T speeds are a contemporary solution to an old problem that has come to light with the increases in AP throughput. Enterprises that choose to implement solutions based on new 2.5/5GBASE-T technology will benefit from a simple fix that yields a noticeable gain in bandwidth, while at the same time realizing cost savings from reuse of existing Cat5e. While users with a wireless connection may derive the most benefit from this technology, IT and design engineers could also greatly benefit from faster connections to the network enabled by new 2.5/5GBASE-T technologies.