By Mara Johnson - Monday, May 14 2018
We caught up with IOL Alum, Andrew Wood, who was a donor in the annual UNH 603 Challenge to the IOL Gift Fund. Andrew worked at the lab from 2011-2014 and graduated from UNH in 2015 with his BS in Outdoor Education and went on to receive his Masters in Educational Studies in 2017. I asked Andrew why he donated to the IOL Gift Fund and what it meant to him. and now I turn it over to him (enjoy!):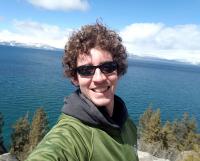 When I worked at the InterOperability Lab, my desk was often home to two or three desktops, sometimes a server, and no less than four screens. Despite all of these creature comforts, I spent most of my time in the testbed. I was hired as a tester, like the rest of my cohort in the IPv6 department, but when my manager, Tim Winters, saw I had other strengths, he worked with me to carve my own niche as a device technician. On any given day, I could be found setting up a new device, working with vendors to install new firmware, and otherwise making sure everything flowed smoothly for our entire department.
When I saw the 603 Challenge last year, my first thought was to support the IOL. After working there for over three years, there wasn't a question in my mind that I wanted to help support their mission, and specifically the IPv6 consortium, as well as the HNC consortium which was founded while I was there. As I wrote on my gift, "This is just my way of paying them back for the experiences and friends I gained there. What I learned there will be with me for the rest of my life, and I am very thankful for that."
What exactly did I learn there? More than the protocols and testing suites, that's for sure. During my time at the IOL, I learned how to conduct myself professionally, something that has served me ever since. From the ins and outs of external communication etiquette to coordinating work with a team of over a dozen people, the IOL teaches skills that are valuable in all careers. My academic focus changed dramatically over the years, and ultimately I left my job at the IOL to seek a career in teaching, which I'm still pursuing at The Children's Center in Wolfeboro, NH. However, my experiences at the IOL still make themselves known when I take the lead in committee meetings, or when I send letters to large foundations to ask for grants. I made my donation to the IOL because whatever the professional situation, I have skills from my time at the IOL which help me accomplish my task. I want to help ensure others have similar experiences to my own, and I hope you can do the same.
The UNH 603 Challenge is an annual online fundraising campaign. It starts June 3rd (12PM) - June 8th (6PM) and during this time, gifts are matched dollar-for-dollar! We are asking our friends, alumni, and supporters to help raise money for the IOL Gift Fund to help fund our Student Leadership Scholarship Program, High School Summer Internship Program, and our overall STEM outreach with local schools.
Mark you calendars June 3 at 12PM as funds will run out! Be sure to follow us on social media, Facebook & Twitter, to learn more about bonus opportunities during the challenge.