Date:
Monday, December 13, 2021 - 9:00am

to

Friday, December 17, 2021 - 5:00pm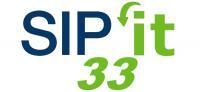 The SIP Forum is proud to announce that its next SIP Interoperability Testing Event, SIPit 33, has been scheduled the week of December 13-17, 2021.
Organized by the SIP Forum, the SIPit events are the world's premier interoperability testing events for SIP, bringing together leading SIP application developers, service providers and IP communications equipment manufacturers to ensure their SIP implementations work seamlessly together in an IP network testing environment.
For more information about SIPit 33 please visit the event's webpage, send an email to sipit-info@sipforum.org, or call +1-203-829-6307.
SIPit 33 registration is now open, and the individual participation fee has been set at $150 USD