By Samantha Martell - Tuesday, April 8 2014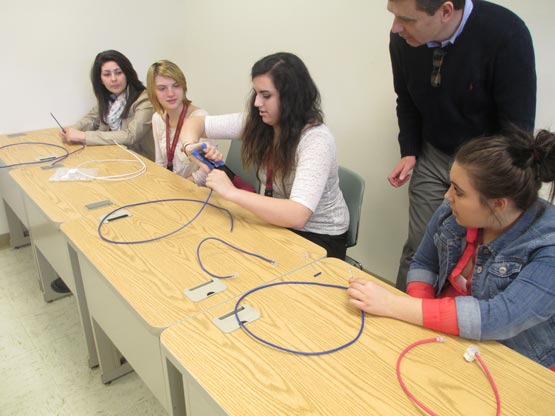 Girls from Pinkerton Academy Making Cables
The University of New Hampshire InterOperability Laboratory (UNH-IOL) has a dual mission to the foster multi-vendor interoperability and also the education and empowerment of the next generation of engineers. On March 19, 2014, the UNH-IOL participated in Girls Technology Day which was hosted at NHTI in Concord, NH. Girls Technology Day is one of many STEM events that the UNH-IOL participates in. This event was developed to expose middle and high school girls to the opportunities and careers available in STEM.
With over 300 8th, 9th, and 10th grade girls from New Hampshire High School's in attendance, the UNH-IOL provided hands-on activities in 2 different workshops, "Ethernet Cable Making" and an "Introduction to Networking". Amy Davies hosted Ethernet Cable Making which always proves to be a great success with the girls. They really enjoy this hands-on activity making cables, terminating and testing the finished product. The Networking workshop was led by Eliza Hawkins-Hunt and Jesse O'Connor with support from Kristin Therrien and Kristin Agustsson. Students learned about basic networking and how data is transmitted over the internet. Using the analogy of USPS mail processing, Jesse and Eliza were able to help the girls understand how packets can be send from a source address to a destination address.
While at Girls Technology Day we also had a chance to talk with the students about the opportunities that the UNH-IOL has available. One such opportunity being the High School Summer Internship Program, and UNH Tech Camp to help fill the pipeline with the next generation of engineers.
Both workshops provided students with experience they can take with them forever and stories that they could share with friends and family later that day.
Samantha Gosnell, Marketing and Communications Coordinator