Overview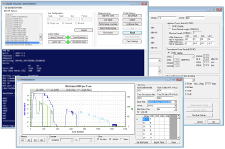 The UNH-IOL has developed an advanced DSL Test Automation software platform capable of controlling both DSL equipment and test & measurement equipment within the laboratory. Test automation ensures results are precise, reliable, and repeatable, while increasing the availability of lab time by testing outside of normal operating hours.
Features
Full automation of Broadband Forum standard tests, including: TR-067, TR-100, TR-114, and TR-249
Standardized profile interface, based on ITU-T G.997.1
Profile library of standard testing, such as TR-105, TR-115, and TR-273
Standardized configuration interface for DSLAM equipment, including plotting of bit-loading and SNR per tone
Support for custom rate/reach testing, including customer profiles, loops, and noises
Supported Equipment
A core component of the automation software is the ability to configure and control both the DSL equipment and test & measurement equipment. The automation software can use Serial, Telnet, TCP, and GPIB connections for control any equipment required for the testing.
The automation software currently supports all DSLAM equipment listed in our test bed.
The software currently supports the following test & measurement equipment:
Spirent DLS410A ADSL2/2plus Wireline Simulator
Spirent DLS414E ADSL2/2plus Wireline Simulator
Spirent DLS8130 VDSL2 Wireline Simulator
Spirent DLS5500 Noise Generator
Telebyte 458-LM-A1-30-TR114 VDSL2 Wireline Simulator
Telebyte 458-LM-E1-30-04+ VDSL2 Wireline Simulator
Telebyte 458-LM-E1-30-TP100 VDSL2 Wireline Simulator
Telebyte 4901 Multi-Output Noise Generator
Screenshots