The UNH-IOL offers a two-day training seminar for entry-level iSCSI implementers, starting with basic definitions and general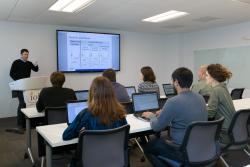 operation, and finishing with a brief description of related protocols. Training sessions include hands-on activities with existing implementations, allowing participants to observe
typical request/response exchanges, stage transitions, error handling, the use of various flags, and the effects of operational parameter negotiation. 
Topics Covered:
iSCSI History and Use Cases

General Operation Overview

Operational Parameter Negotiation
Additional PDU Types
PDU Sequencing
Security (CHAP)
Task Management
Error Recovery
Related Protocols (iSNS, iSER)
Training seminars are offered for current and non-members at our facility in Durham, NH. Please note this training seminar is an additional cost.