August 2018
Tim Ryan
Tim Ryan joined the lab in March of 2017, and quickly demonstrated his professionalism and desire to excel, learning nearly all of the PoE testing in his first few months of working at the lab.  Since then, he quickly moved onto development, helping to improve the training and existing software, and most recently developing both the first PoDL test board and the forthcoming 4-Pair test board. These boards are the first in the PoE group with an onboard microcontroller, making it possible to run automated testing, changing the board configurations between measurement points. These skills, especially working with the Altium  PCB design software, are incredibly valuable to not only the PoE group, but the lab as a whole. Tim is always willing to help others, sharing his knowledge and experience.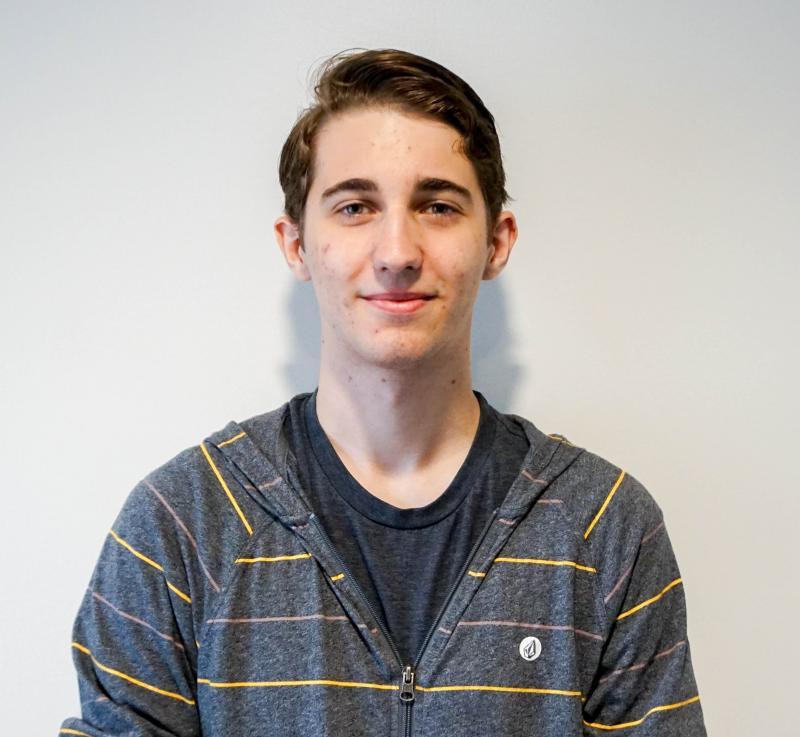 Anthony Pilotte
Anthony Pilotte began working at the UNH-IOL as a High-Tech Bound summer intern, and it was immediately apparent him,  it was a perfect fit. Tony completed his internship project in record time, and began working with the Test Sentinel team on other projects.  Fast forward a couple years; Tony is now a leading developer in the Test Sentinel team. Working to create new features, while working directly with our first commercial customers to support their teams.  While this alone would be worthy of an star, Tony has also served as a mentor for the Broadband High-Tech Bound interns for the past two summers. His knowledge, hard work, and cheerful disposition make him an ideal employee.  Whether hosting tours, demos, or helping other students with testing, Tony has become the "go-to team member" in broadband groups.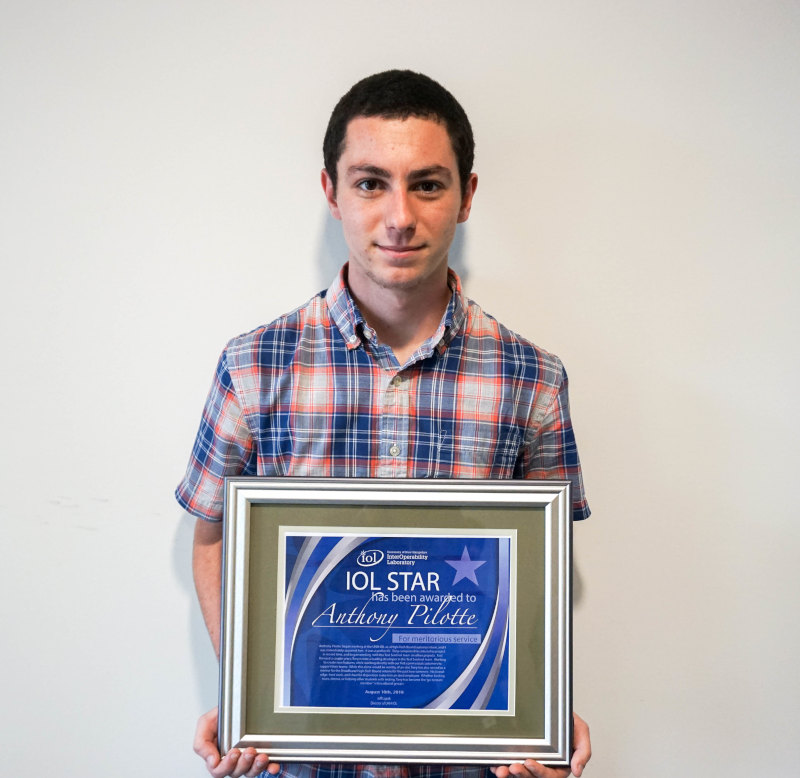 Ben Patton
Ben began working at the UNH-IOL as an intern and has since shown himself to be an invaluable asset.  Ben is one of the few students to have worked in multiple areas of the lab and brings the knowledge and experience he gains to every project he's involved in.  Ben is a leading member of the IP AppDev group, which was one of the first student groups in the lab to complete a sprint. Since then, with his help, AppDev has continued its tradition of exemplary work and just finished the ID-181 program.  Ben is also an active mentor and participates helping new hires and co-workers by sharing his experiences. With the amount of knowledge Ben has accrued over his years he can provide insight to students even in areas he is less familiar with. His dedication and willingness to share his experience and knowledge, is a credit to both himself and the UNH-IOL.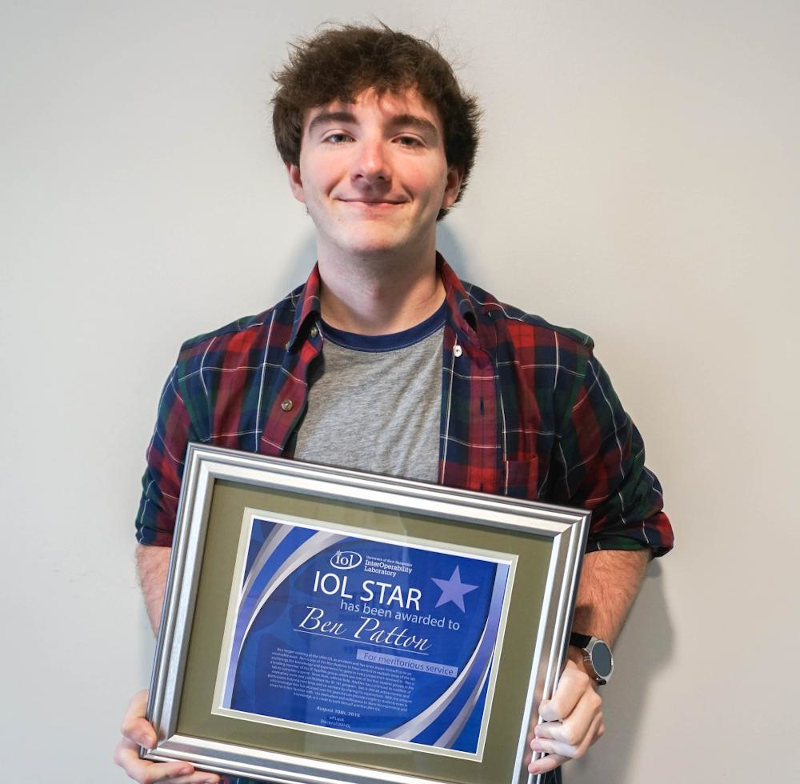 Alan Leglace
Alan's adherence to our core value of integrity is unparalleled.  Alan's detail in fixing test scripts and finding errors in test specifications is outstanding. His dedication to providing the best and most accurate results to our customers makes him an exemplary member of the IP group.  As a member of last year's successful Verizon project and a current member of the successful AppDev group, Alan's strengths elevate every team he is a part of.  He also helped with this summer's Python workshop and is an active mentor for our new hires at the lab. Alan dedicates himself to benefiting the lab and those around him and is the epitome of our values here at the UNH-IOL.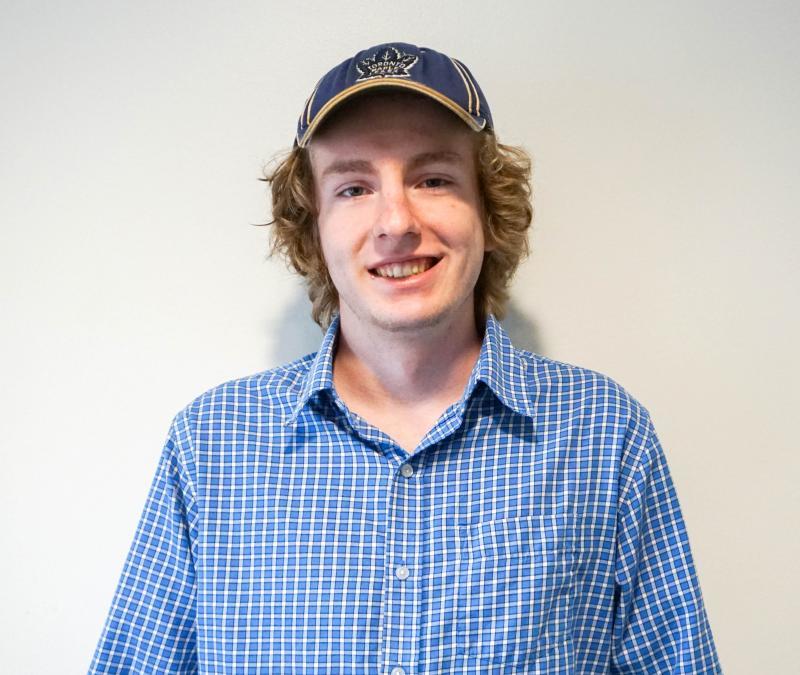 Nick Kahn
Nick Kahn is one of our most experienced interop technicians. As a result, he often tasked with the most difficult devices to test, and its with this experience that he has also proven to excellent teacher. He is always willing to answer questions, and is able to explain topics so that anyone can understand them. He frequently checks in with the people he is training to make sure they understand what is happening. If they don't understand the first time, he is able to explain things in multiple ways, until they understand. He has
In addition to testing and training is also goes above and beyond taking on challenging tasks such as the periodic refreshing of our cables plants to meet the standard. This is a task that took several weeks of terminating and testing cables until they were just barely compliant to the standard.
Nick Kahn has become an integral part of the Baseband. His experience and willingness to help his team keep his team on track, and he takes the time to ensure that he is not only helping his team to complete their tasks, but to help them learn as well.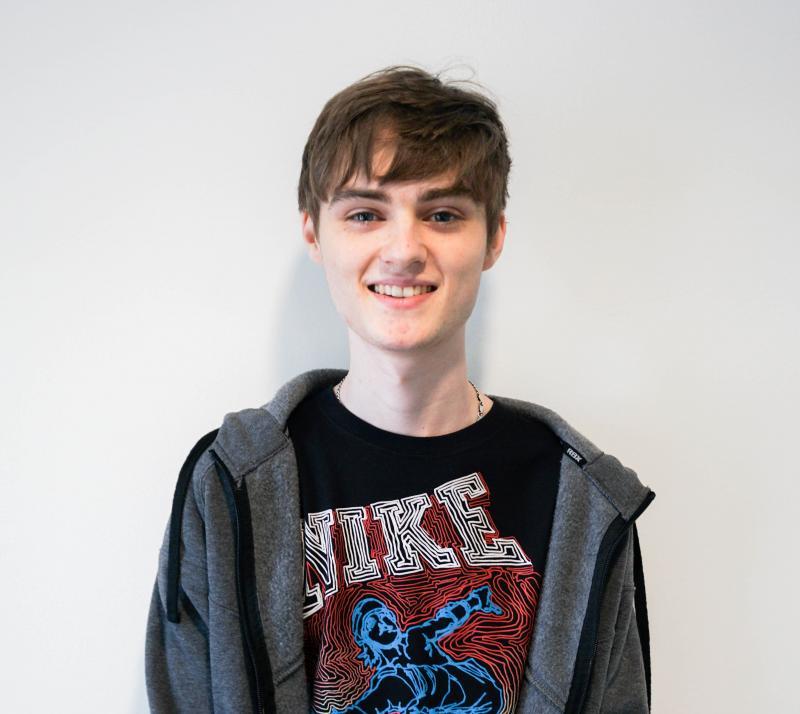 January 2018
Hayden Hanes
Hayden has been working at the IOL for the last three and a half years in the Baseband anti-static area as one of the lead physical layer testers. Over that time he has become proficient in several skill sets; including mastering several Ethernet electrical conformance test plans, automating test procedures with Matlab, test plan editing, and surface mount soldering. Hayden has also represented the IOL at several conferences, including IEEE and DesignCon, under the prestigious title of Soldering Wizard (a title not previously held by any IOL employee).
Hayden is a role model for all anti-static employees with an exemplary work ethic, and a good attitude and sense of humor. His engineering knowledge and expertise has made him one of the 'go-to' employees when new projects are conceived. This is also evident in the fact that Hayden is often answering questions and explaining the concepts behind several of the test methodologies and practices used in Ethernet testing. Hayden is certainly a vital resource to the anti-static area and the IOL as a whole, valued by the staff as well as his peers.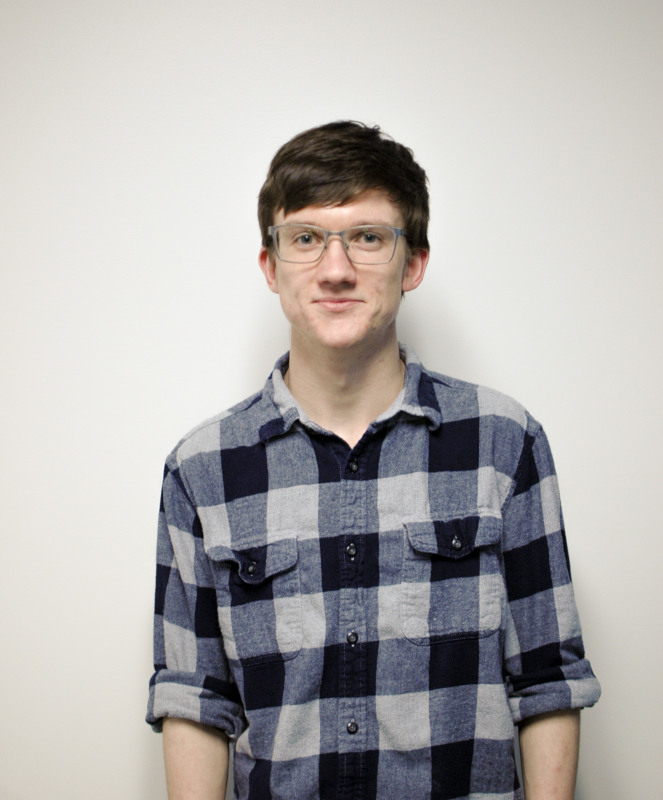 Kris Fargo
Kris has been always up to speed in testing and helping others in testing. He provides great help when people need it and offers valuable criticism when people want it. He has been helping out in transitioning the Violett tool to Git (with Bitbucket) and the redmine tickets to Jira (also with the help of others). After the summer, he also made a frontend to Lego's reservation page for Avnu, which has been helpful summarizing our current reservations, made it easier to navigate to the reservations, and at-a-glance view who and what reservations people are working on.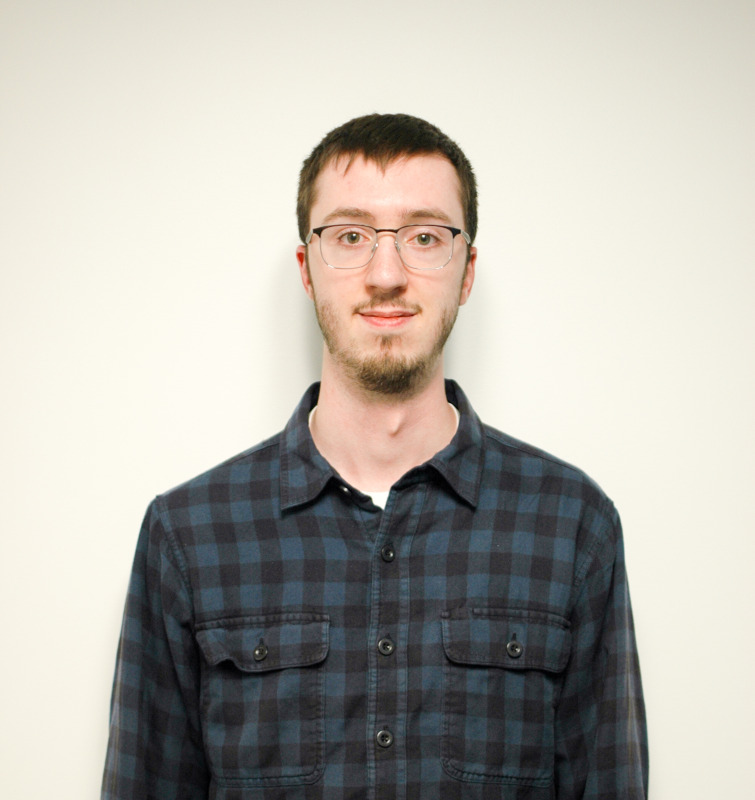 Colin Dorsey
Colin goes above and beyond whether its at plugfest time or answering questions from customers or colleagues. His work has been complemented many times by NVMe customers. His work on the NVMe IOL INTERACT PC Edition tool has really improved the quality of our NVMe test offerings, adding over 100 tests to our program. Colin's odd sense of humor and dry wit makes the NVMe work environment an enjoyable place to work. He brings a smile to everyone's face. Colin spends extra hours in the lab, and really makes himself available to get the job done.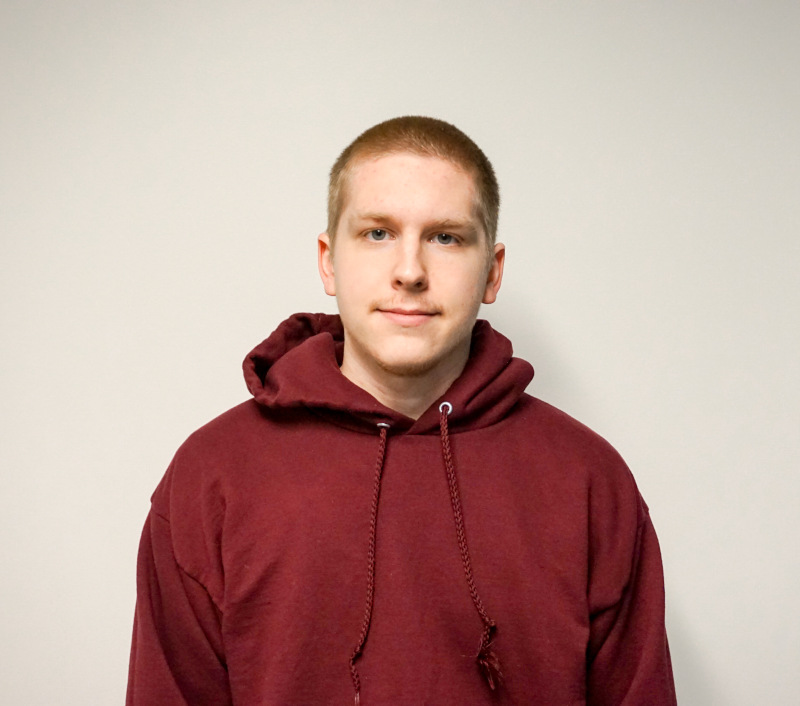 Christopher Brown
Chris joined the lab in May 2015 and has since become an integral part of the IP testing service. Chris has demonstrated to ability to work independently on a number of projects. If issue comes up in the Routing area Chris is always the first one to jump to fix it. He contributed greatly to getting the OpenFlow testing service up and running and being the main point of contact for this service for several eager vendors. He makes himself available to help and train any new employee that joins Routing.
Chris was a valuable team member on the Verizon SDN project and demonstrated his ability to work on an external project in a professional manner. Chris is also working on the development of scripts for Routing protocols that will allow IP to offer more test packages to customers. Chris stands out in the IP industry as a star employee and an integral part of the lab.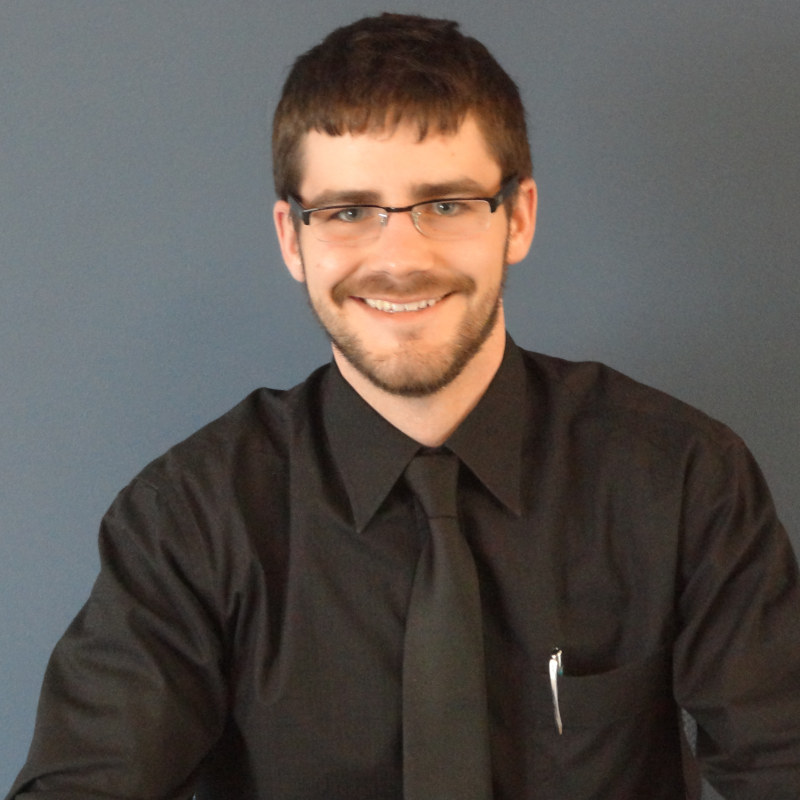 Sarah Hinzman
Sarah has been a great addition to the Communications team. She is always willing to participate in lab wide events, coming up with new Communications initiatives, as well as completing all her assigned tasks efficiently and on-time. Not only is Sarah eager to always learn new things but she continues to maximize her potential in skills she already has such as photography and photoshop.
She has also grown as a project manager for STEM activities, HighTech bound social media, admin tracking etc, and organizing all communication initiatives including statistic tracking, working with UNH CPA team and inventory. Through her love of graphic design, photography, photoshop and overall writing talents she has helped make several campaigns, strategic initiatives and lab events very successful.