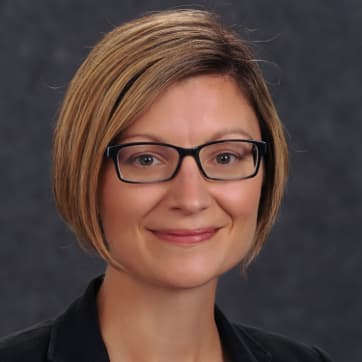 Erica Johnson was named Director of the University of New Hampshire's Interoperability Laboratory (UNH-IOL) in Durham, NH, in 2007. In this position she utilizes her industry experience in networking, developing certification test programs and creating strategic partnerships leading the lab's continued success.
In addition, Erica supports industry leaders, professional staff, and student employees with thought leadership and industry guidance that makes the UNH-IOL the innovative leader of third party testing services and solutions. Recently, she has also facilitated the lab's move to a new 28,000 sq ft facility in downtown Durham, NH.
In recognition of her industry leadership, Erica has joined the BACnet International Board of Directors and adds this appointment to the Chair of the Open Networking Foundation Testing Leadership Council and Co-Chair of the IPv6 Forum's IPv6 Ready Logo Program.  She has also been recognized by NH Business Review as a recipient of the 2016 Outstanding Women in Business award, Fierce Telecom's list of "Women in Wireline", and was awarded, by the University of New Hampshire, with the UNH Women's Commission's Stephanie Thomas Staff Award in honor of her achievements in promoting and embodying the advancement of women in the sciences. Erica also acts as a Director on the UNH CEPS Alumni Society Board, UNH Broadband Center of Excellence Board and is Co-editor of the Network Testing Series for IEEE Communications Magazine.
Having completed her B.S. in Computer Science in 2001 and MBA at UNH in 2011, Erica continues to build strategic partnerships using her entrepreneurial and technical skills, training the next generation of engineers while building a sustainable business to the meet the needs of the data communications and networking industry. Her lab initiatives include commercialization of UNH-IOL testing products, STEM educational opportunities, career placement for student employees and creating a new foundation to fund the education of future engineers.